Editorial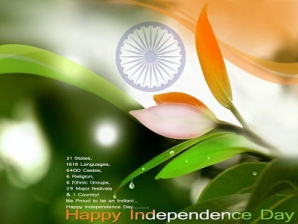 U Atreya Sarma: Main Editorial
Greetings on the eve of the 70th anniversary of Independent India to all our members, readers, writers, well-wishers and patrons. Hearty congrats to the President-elect Ramnath Kovind whose tenure begins with this memorable event. And a happy retired life to the outgoing President Pranab Mukherjee whose statesmanly tenure has lent dignity to his office.
First of all, we are happy to announce that Muse India is now a UGC-approved Journal, with Sl. No. 759, for the Subjects of English; Linguistics and Language, under the Broad Category of Arts & Humanities – effective May 12, 2017. This recognition makes us only more humble and responsible, and we would sincerely strive to keep the banner of Muse India fluttering with the expected standards. The efforts of the Muse India team right from its inception in Jan 2005 and the contributions of the various stakeholders – writers, readers, well-wishers and sponsors over all these years – have made this honour possible. Our bouquet of thanks to all of them.
The monsoon has set in with its cool and welcome showers – bringing hope and smiles on the face of the scorched earth and on the faces of our farming brethren and providing the much needed sustenance to the roots of afflatus of the creative artists.
And the pool of showers has turned a bit salty – what with a trickle of tears dropping into it on the demise of Jnan Pith laureate Dr C Narayana Reddy, whose stylus came to an eternal stop on June 12, 2017. A literary colossus who strode, unaffected by any divisive ism – he was a household name in the Telugu land. Please wait for the Sep-Oct 2017 issue which presents a feature on the life and work of this literary legend. In fact, we had announced the feature months before he was to breathe his last, and also contemplated to do an interview with him. After all, man proposes, God disposes. We pay our homage to the great soul who has left a rich literary legacy behind.
The process and art of writing is a topic of perennial interest, with writers describing it in differently appealing ways. Let's ruminate over what E L Doctorow (Jan 6, 1931 - Jul 21, 2015), celebrated American Author has observed (Courtesy: Good Reads and Brainy Quote):
Writing is a socially acceptable form of schizophrenia.
Writers are not just people who sit down and write. They hazard themselves. Every time you compose a book your composition of yourself is at stake.
Writing is an exploration. You start from nothing and learn as you go.
Planning to write is not writing. Outlining, researching, talking to people about what you're doing, none of that is writing. Writing is writing.
Writing is like driving at night in the fog. You can only see as far as your headlights, but you can make the whole trip that way.
There is no longer any such thing as fiction or nonfiction; there's only narrative.
The writings across all the sections in the present issue would, in some measure or the other, could be having a shade of the above observations.
I thank my co-editors – Ambika Ananth (Poetry), Smitha Sehgal (Fiction), and Priyadarshi Patnaik (Art) for the meticulous selections for their respective sections. While I have edited the Feature of New Annual Fiction Bonus and Reviews sections, Dr Charanjeet Kaur is the distinguished editor of the Literary Articles/Discussions section. It is now apt to make a special mention of her.
Dr Charanjeet Kaur who has been on the editorial team of Muse India for over 6 years (and as Chief Editor from Mar-Apr 2015 to Nov-Dec 2016), has, with her rich academic-literary experience, done a solid work to turn around the e-journal. She is so dedicated that, in addition to her regular Literary Section, she has conceived and brought out as many as eight special Features/Focuses: Sub Continental Women's Voices (Mar-Apr 2011); German Literature (Jan-Feb 2012); Non-fiction Writing (Sep-Oct 2013); Diaspora Writing in Prose (Jul-Aug 2015); Indian Short Stories in Translation (Sep-Oct 2015; Nov-Dec 2015); Mass Appeal – Let's Get Creative (Mar-Apr 2016); and Translations/Transcreations (Sep-Oct 2016). It's after such an arduous journey that she now likes to take a break from the editorial responsibilities; and we at Muse India, with a mixed feeling – of grateful happiness for her yeoman's service and of wistfulness at her leaving the core team – have yielded to her request. Kudos and gramercy to you dear Charanjeet. We are, however, glad that there is a silver lining – for she would continue in an advisory capacity, to guide us ahead.
To ensure the continuity of the Literary Section, Subashish Bhattacharjee – a young and competent litterateur and research scholar has agreed to assume the mantle with effect from the Sep-Oct 2017 issue. Dear Subashish, a hearty welcome to you. And with Dr Charanjeet being more than willing to offer her experiential guidance and blessings to Subashish, it shouldn't be too daunting for him.
I thank colleague, GSP Rao, for his constant guidance and support; and the technical team at Access Centre – Viswanath and Naren.
Now, dear readers, take a tour across the sections, and enjoy the fare at your convenience.
Your suggestions and feedback are welcome.
Atreya
PS/NB:
I request every intending contributor to carefully go through the Submission guidelines and meticulously follow them before sending in their work. Needless to say that the submissions should have the grammatical and syntactical standard of a literary journal.

Muse India is a non-commercial voluntary literary service, with none of its editors taking any remuneration. Its only expenses are the charges of the web developers, which Muse India meets by way of sponsorships by patrons. It is also on the way to upgrading the technology of its website to make it more user-friendly. We appeal to individuals and organisations to come forward with sponsorship or donations in the cause of good literature.